2017 Scholastic Art & Writing Awards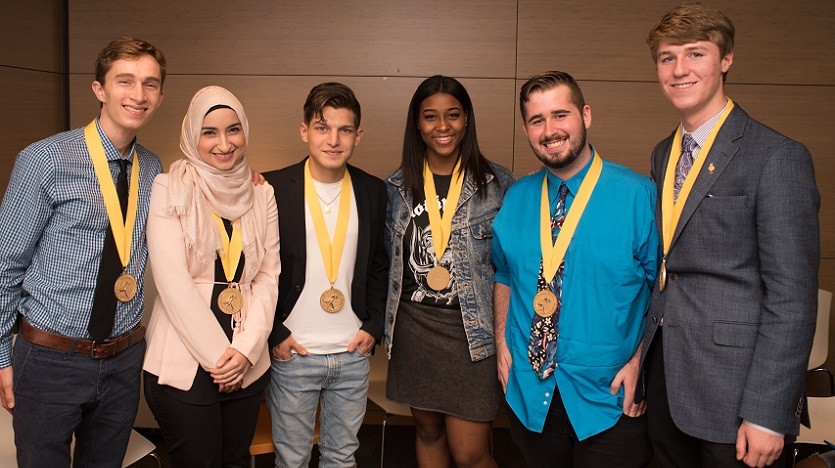 The Awards
The Scholastic Art & Writing Awards are the nation's longest-running and most prestigious recognition program for creative teens in grades 7–12.
Last year, students submitted nearly 320,000 works of visual art and writing to the Scholastic Awards; more than 85,000 works were recognized at the regional level and celebrated in local exhibitions and ceremonies. The top art and writing at the regional level were moved onto the national stage, where 2,500 works earned National Medals. National Medalists and their educators were celebrated at the National Ceremony at Carnegie Hall in New York City.
Art.Write.Now.
National Medalist art and writing is displayed during the annual Art.Write.Now. National Exhibition in New York City. Last year the exhibit was on display at the Sheila C. Johnson Design Center at Parsons School of Design at The New School and at Pratt Institute's Pratt Manhattan Gallery. We also hold ongoing exhibitions at the U.S. Department of Education and the President's Committee on the Arts and the Humanities through the Art.Write.Now.DC program. In addition, selections from the Art.Write.Now. National Exhibition are displayed in cities across the U.S. as part of the Art.Write.Now.Tour.
National Student Poets
Each year five students who have been recognized through the Scholastic Art & Writing Awards are selected for one year of service as literary ambassadors through the National Student Poets Program. By elevating and showcasing their work for a national audience, the program strives to inspire other young people to achieve excellence in their own creative endeavors and promote the essential role of writing and the arts in academic and personal success.
Scholarships
The Alliance for Young Artists & Writers awards nearly $300,000 in direct scholarshipsannually to top Awards recipients. We also partner with art institutes, colleges, and universities who earmark scholarships for college-bound Scholastic Awards recipients. The Scholastic Awards Summer Scholarship program provides opportunities for talented students with financial need to attend creative, pre-college programs all over the country during the summer.
Workshops and other Programming
Every summer the Alliance for Young Artists & Writers works with partners across the country to host workshops lead by professional artists and writers. Recent workshops include Editorial Cartoon sponsored by The Herb Block Foundation, Video Game Design sponsored by the ESA Foundation, and Healing & the Arts sponsored by the New York Life Foundation.
Educator Resources
Educators play a critical role in bringing the Scholastic Art & Writing Awards to their students and supporting them throughout the process of submitting work. To support educators in this role, we provide classroom resources such as our Educator Guides and opportunities for educators to develop their craft, such as the Golden Educators Residency.
Alumni Resources
We want you to stay connected with the Scholastic Art & Writing Awards community. In addition to our Alumni Council, we have opportunities for alumni including A Suite of One's Own Writers-in-Residency and our annual Alumni Microgrants.